NUU GARDEN is the allusion of natural beauty of garden and the matching refined outdoor items which are created to make your garden ever new and comfortable.
As an enterprise committed to R&D innovation, Nuu Garden began with passion, imagination and action. We inherit the ancient weaving technology, absorb the elegant and exquisite patterns, and integrate in the modern research & development and manufacturing process, which is applied to the field of outdoor furniture to produce high-quality, healthy and environmental-friendly products. NUU Garden brings to the world an exquisite gift and thoughtfulness!
NUU GARDEN is always committed to the pursuit of excellence in quality, adhering to achieve the best of every detail. Abundant innovative elements can be found in our design, which is why NUU Garden products are unique, stylish and excellent.
It grows deep in our mind: The style starts the sales, but quality makes the sales ever-lasting.
In pursuit of the core value of design, we have also paid high attention to our standard for products. The best materials, advanced facilities, experienced craftsmen, professional engineers and well-trained QC team ensure the high quality of products.
NUU GARDEN corporate headquarter is located in the famous coastal city- Ningbo, with 250,000 sq.ft production base and 5,000 sq.ft modern spacious showroom. The USA operation branch is settled in Houston, along with 100,000 sq.ft warehouse and its own photography studio. Corresponding warehouse and service system are equipped at every operation center to ensure our business partners and consumers obtain the maximum benefits in the favorable service.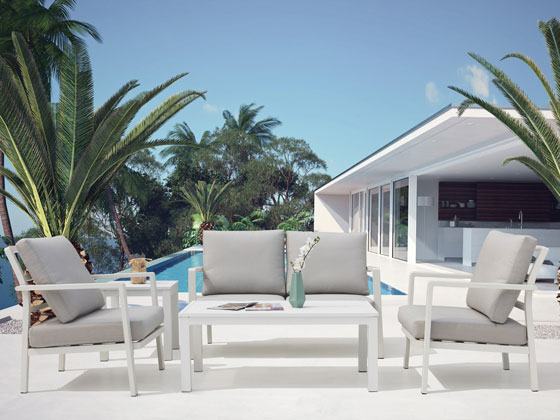 - Nuu Garden's Vision & Values
We care, we create.
As a brand dedicated to build a new concept of outdoor lifestyle for human being, we care about every single person's needs, then accordingly, we create the most appropriate product.
The style starts the sales, but quality makes the sales ever-lasting. This core value always encourages us to struggle for the fulfilment of that vision: Stay with Nuu Garden, makes Garden everywhere.

Want to join in NUU GARDEN and be a dealer? Contact us immediately or directly order from our online store www.nuugarden.com.
Try it, you'll see Life could always be refreshed by NUU GARDEN outdoor living!